Latest Upgrades in JINPAT Pin Connection Slip Rings
08-02-2021
Recently, JINPAT has finished the final tests in some of the LPR Pin Connection Slip Rings. The JINPAT team has enchanced the properties in the pin connection slip rings with prominent extension in their service life.
Packing machines are commonly seen in the food and beverage industry, pharmaceutical industry and other similar industries. And slip rings are essential components in these packing machines, where the slip rings enable the power and signal transmission between the rotary part and the stationary part. The slip ring plays an important part in realizing automated processing. In this situation, pin connection slip rings have many advantages over other types.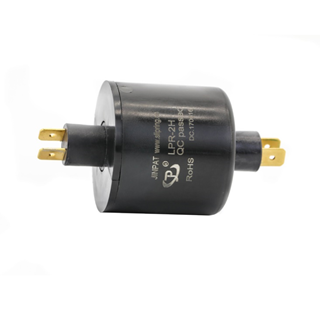 LPR-2H
JINPAT LPR pin connection slip rings adopt exquisite and innovative design and therefore is perfectly fit for packing machines. JINPAT pin connection slip ring replaces ordinary wires with pins, making it more endurable and runs smoother during rotation. JINPAT applies gold plated pins in these slip rings, which endows the slip ring with better electrical properties.
JINPAT pin connection slip rings outperform the others. These slip rings demonstrate great endurance of high and low temperature, from -40℃~+80℃. The feature fits right to the operation condition of the packing machines. JINPAT LPR slip rings also comply with the RoHs standard and therefore qualified to be used in food and beverage industries. With high protection grade, JINPAT LPR slip rings can cope with demanding working conditions in packing machines for different purposes.
LPR-4H
Since pin connection slip rings are mostly applied in the automated producing industry, the life span of them will be emphatically considered. Therefore, JINPAT has put great effort in extending the life span of the pin connection slip rings. And lately, JINPAT has acquired some technical improvements of the LPR series. The service life of JINPAT pin connection slip rings, LPR-2H and LPR-6H can reach 35,000,000 revolutions while the model LPR-4H reaches up to 28,000,000 revolutions.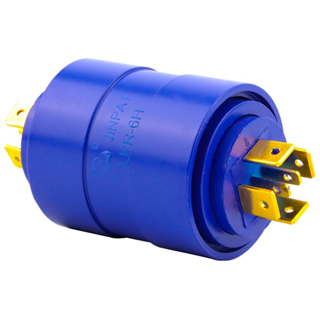 LPR-6H
Aside from packing machines, JINPAT pin connection slip rings are also applied in rotating platforms, cable wheels and so on for their exceptional performances. We received lots of satisfactory feedback from our customers. So, feel free to contact JINPAT if you have any specific requirements of our pin connection slip ring.