With the development of technology, people nowadays are able to make use of clean energy. You can see the trend on wind turbine generator as well as a more daily life example, the new energy vehicles. To mention but a few, Tesla, NIO and Nikola are household names in the global electric car market. So with the popularity of the electric vehicles, their supporting infrastructures, the charging piles, the EVSE is also seeing a rise.
EVSE is an acronym for Electric Vehicle Supply Equipment, it is often called charging piles or charging point. It functions to recharge an electric car. However, the traditional charging station will take up too much space and it's not practical for private use. A Chinese vehicle company has come up with a charging station that function both as parking lot and charging point. In this innovative charging station, JINPAT slip rings play an important role.
JINPAT through bore slip ring for charging station, is a slip ring model designed especially for the platform. It guarantees a reliable and efficient charging of the electric car voiding the concern of wire tangling. JINPAT hollow shaft slip ring is able to realize hybrid transmission of various signals like ES, Ethernet, USB, SDI, CANBUS and FireWire, etc. With a high protection grade up to IP68, JINPAT slip ring is able to cope with shock and impacts round the charging station.
For more details, you can check out model list and description.
Features & Advantages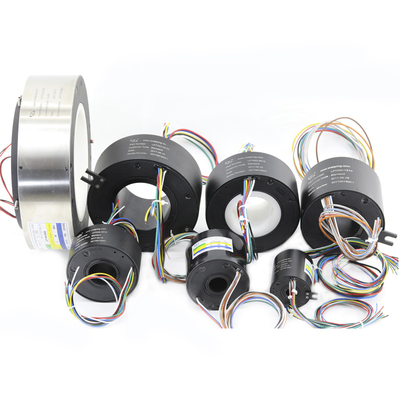 ◆ 360° rotating transmission continuously
◆ Available for integrated transmission of different circuits
◆ Integrated rotary joints
◆ Reliable performance, without data package loss
◆ Optional current (2A to 300A) and aperture size(φ12.7 to φ 500mm)
◆ High rotating speed up to 2500 RPM
◆ Advanced multiple contact of cluster brush
◆ High protection level up to IP68
◆ Long service life
◆ Maintenance free
◆ Prompt delivery
Equipment

Part Number

Performance

Specs

Circuits

Voltage

Working Speed

ID

Working Temperature

AC Charging Piles

LPT1

40-0563-

TS

5 *63A

380VAC

0~3 rpm

φ140mm

-40~+80℃

DC Charging Piles

LPT140-02130-0206-08S

2*130A+2*6A+8* CC-Link

24VDC

0~30 rpm

φ140mm

-20~+80℃