To some extent, the slip ring of construction machinery is the fist product in JINPAT Electronic product series. This series has many models and large output, and most of them are developed for construction machinery such as cranes, excavators and special fire engines. There are some relatively prominent characteristics of these slip rings applied in different equipment fields.
First, let's look at the slip ring on the fire truck. Fire truck is a special equipment with less known. Due to different task modules, there are many classifications of fire trucks. Some fire trucks with functions such as climbing and high-altitude spraying are equipped with special large through-hole slip rings. The reason why the large through-hole slip ring is selected is that such products have a high service life. The central through-hole can be equipped with water pipes, rotating shafts and other equipment, which can improve the space utilization of vehicles. The most representative of such products is LPTS125-0440-14S-E2.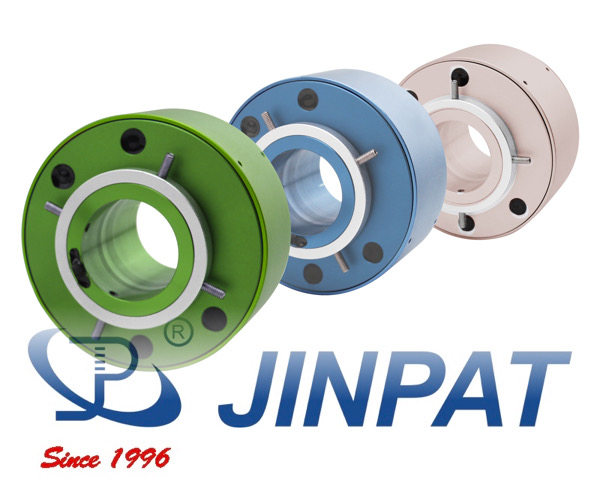 Compared with fire engines, cranes are much more common and JINPAT Electronics has developed more slip ring models for cranes. The slip ring used on crane can also be divided into two types. One is the ultra-small through-hole slip ring. This kind of slip ring is installed in the winding barrel of the outer arm of the crane to transmit some signals to control the extension and contraction of the jib. Its representative model is LPT012A-0902. For wiring, a PCB board is specially welded at the rotor end of this slip ring, and the WANKE terminal is integrated on the PCB board.
Before JINPAT Electronics developed this kind of jib drum slip ring, many large manufacturers in the domestic crane industry would use the relevant products of Muge and other foreign companies. After JINPAT Electronics localized it, it effectively alleviated some hidden dangers caused by the use of imported products by some large manufacturers. However, for the slip ring used on the crane, mostly used slip ring is that matched with the steel cable winch and chassis, whether the current or volume transmitted by this kind of product is much larger than that of the boom slip ring, and its installation position is also in the relatively remote and narrow space of the vehicle, so its requirements for the reliability are very strict. Based on years of experience in the development of crane slip rings, JINPAT Electronics is able to control the reliability of such slip rings above 99.98%.
This kind of slip ring applied to the crane chassis and winch also has a feature of high rotation accuracy. Ordinary slip rings without integrated encoder can control the rotation accuracy within ± 3 °, while after the application of integrated encoder, its accuracy can be controlled within ± 1 °. In addition to fire trucks and cranes, there are also gas-liquid slip rings and electric slip rings in excavators. The gas-liquid slip rings are mostly used in conjunction with plunger pumps to transmit hydraulic oil and other oil, while the electrical slip ring is a separate module to transmit power and signal.