Among JINPAT Electronics's high current slip ring series products, there are few models with through-hole, and few with through-hole diameter more than 300mm. Recently, JINPAT Electronics has developed a new large through-hole high current signal integrated slip ring, which is about to be delivered for use, and its model is LPA340-03350-04S. The through-hole diameter of the slip ring is 340mm and the height is 865mm (excluding PG joint). Since the slip ring is designed with two maintenance windows, the overall shape of the slip ring is not a complete cylinder. After adding two maintenance windows, the maximum diameter reaches 872mm.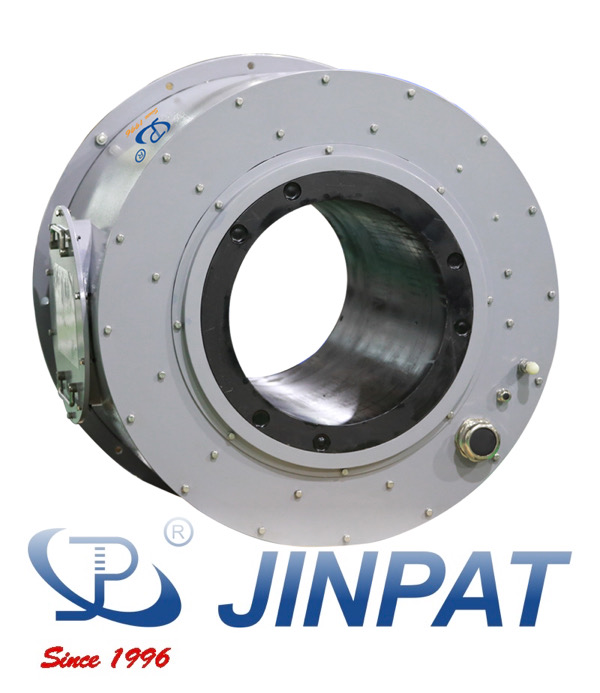 The LPA340-03350-04S high current slip ring of JINPAT Electronics is developed from the LPA350-03350 of JINPAT Electronics. In addition to the constant current ring parameters of 3 channels of 350A, it also adds 4 signal channels, and reduces the through-hole diameter from 350mm to 340mm at the request of clients. However, the friction pair system of this type of high current slip ring, whether it is current path or signal path, adopts copper graphite carbon brush. For some high current signals, in order to ensure the quality of signal transmission, silver graphite carbon brush will be used as the friction pair contact.
As a high current slip ring, this type of product naturally adopts the classic frame structure of the high current slip ring. Since the through-hole diameter reaches 340mm and there are only four signal paths, JINPAT Electronics still selects the carbon brush friction pair as the structure of its signal module after weighing the signal transmission, service life and other performance of the slip ring and the cost of the product. In addition to the internal and external structure, this type of high current slip ring also integrates a 60W temperature control heater, which will start automatically when the internal temperature of the slip ring is lower than 20 ℃.
With the addition of temperature control heater, this type of slip ring can work normally under low temperature conditions. On the contrary, radiator is needed if the slip ring is expected to work normally under high temperature. Setting temperature control equipment inside the slip ring has become the basic configuration of JINPAT high current slip ring. JINPAT Electronic LPA340-03350-04S is a high current marine twisted slip ring. In order to adapt to the harsh marine environment,the design protection grade of the slip ring reaches IP56. Meanwhile, a special coating is sprayed on its Q235 shell in order to prevent from corrosion.