In the face of fierce market competition, no matter what kind of products, quality is always the foundation of an enterprise.Quality first is the service principle that JINPAT Electronics has been adhering to for many years, and it is also the basis for JINPAT slip rings to gain good reputation in the market.Behind the high-quality slip ring is the super large-scale product test center of JINPAT Electronics.JINPAT product testing center is divided into two areas: slip ring life test laboratory and product environmental adaptability laboratory, covering a total area of more than 1,000 square meters and having more than 500 sets of various equipment.
In the slip ring life test laboratory, newly developed slip rings and old products after material and structure improvement need to be tested in the test center to obtain final accurate life data.The whole life test cycle of some high life conductive slip rings even exceeds one year.Of course, for conventional and mass-produced products, JINPAT's quality engineers will also conduct random inspections on a regular basis to ensure that the products received by customers are of the best quality.JINPAT slip ring life testing laboratory has a lot of equipment, which can support nearly 500 products to be tested at the same time, and it is far ahead of other slip ring manufacturers in the industry.JINPAT uses the original method to test the life of the slip ring, because JINPAT Electronics has found that there is no shortcut to improve the quality of the product. Only after years of repeated testing can we design the most suitable structure and key materials.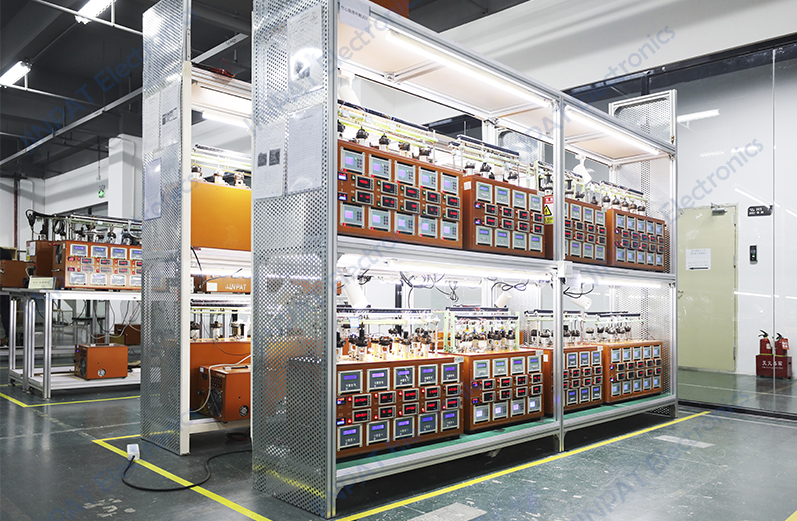 Environmental testing is also a very important part of the slip ring development process, especially those products with high environmental requirements.Many of JINPAT slip rings will be used in the environment of seawater, high temperature and high dust, so the environmental test is one of the tests that must be carried out before the slip ring leaves the factory.JINPAT environmental simulation laboratory has a variety of test equipment such as high and low temperature boxes, salt spray testing machines, vibration tables and so on. Taking high and low temperature boxes as an example,there are as many as 15 sets of high and low temperature boxes of various specifications, which can complete high and low temperature impact tests between - 100℃ and + 300℃. It is worth mentioning that some test equipment's turntables use JINPAT's own slip rings.