In today's manufacture sections, there are various kinds of automated production machines and appliances. In these applications, to enable 360-degree rotary transmission of electricity from rotary part and the stationary part is a key task. General speaking, an electrical slip ring is installed to enable this function. But this is not enough.
Aside from power, there are also demands in transmitting media like compressed air, inert gas, hydraulic oil, coolant and water, etc. To solve this problem, JINPAT Electronics has developed hybrid hydraulic pneumatic electrical rotary joint. JINPAT hybrid rotary joints are broadly applied in rotary tables, food processing industry and metallurgical industry, etc.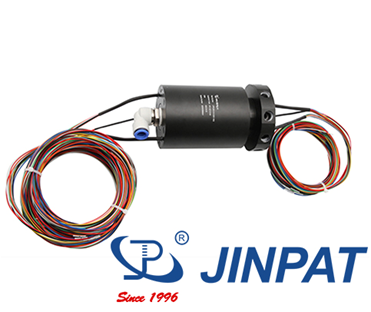 JINPAT Hybrid Hydraulic Pneumatic Electrical Slip Ring
JINPAT hybrid rotary joint is a highly integrated rotary joint. It takes up module design. The hydraulic/pneumatic part is independent from the power module. The module design guarantees no interference when transmitting liquid, gas and power. The hydraulic/ pneumatic unit takes up advanced sealing rings and exclusive sealing technique and therefore ensures no leakage of the media. The power and signal unit can integrate power, switching signal, Ethernet signal, USB signal, industrial bus and sensor signal, etc.
The rotating joint adopts precision components and high-end polishing technique. These features contribute to a smooth and lasting 360-degree rotation. JINPAT hybrid rotary joint aside from its excellent performance is very endurable and reliable.
JINPAT hybrid hydraulic pneumatic electrical rotary joint is a custom solution. Channels of liquid, gas, power and signal are optional. Customers can also decide the channel diameter according to their need. For more hybrid slip ring references, you can visit our website or send us an enquiry.