An electronic total station is an optical surveying instrument that is used to calculate angles and distances. The total station is a versatile electronic device that consists of the electrical theodolite, electronic transit and the processor. This device is broadly used in ground investigation. In such device, a slip ring is an irreplaceable component. An electrical rotary joints allow the sensors, the optical components to rotate in an unrestricted 360-degree. Meanwhile, a slip ring enables the power and signals transmission between the sensors and the processor.
JINPAT Electronics as an expert in the slip ring industries, has provides a lot of slip ring solutions for the clients. And of course, JINPAT has slip ring models that are designed for electronic total stations. For precision equipment and devices like electronic total stations, JINPAT capsule slip rings, miniature slip rings and also super miniature slip rings are all optional. However, to name the fittest slip ring type, JINPAT PCB pancake slip ring, is no doubt the best choice.
Given the limited installation space in an electronic total station, JINPAT PCB flat slip ring can easily fit it and also the printed circuit board can be folded according to the layout of the application. With a compact size and innovative PCB design, JINPAT PCB flat slip ring excels in its flexibility. Meanwhile, JINPAT flat slip ring will also surprise the client with it powerful electrical performance and super long service life.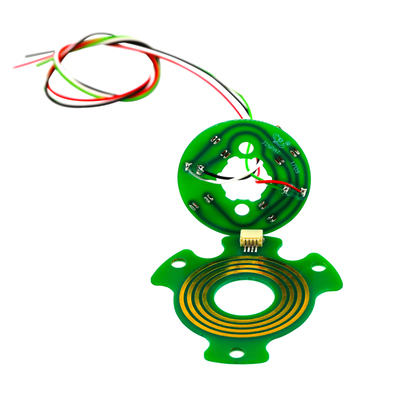 Features & Advantages

◆ 360° rotating transmission with no wires wrapping
◆ Transmit various kinds of signals including Ethernet, USB, RS, CANBUS, FireWire, servo-actuator, encoder, strain gauge, thermocouple, HDMI
◆ Able to be integrated units with excellent conductivity
◆Reliable performance, no signal interference, no data package loss
◆ High operating speed
◆ Low electrical noise(min 1 mΩ)
◆ Adapt to a wide range of temperature of -60℃~+120℃
◆ High protection level up to IP68
◆ Free of maintenance
◆ Long service life
◆ Mass production, rapid delivery
◆ Competitive cost
Equipment

Part Number

Performance

Specs

Circuits

Voltage

Working Speed

rRotary Scanne

LPC-0201-HD01

2* 0.5A +1*RG316 Coaxial Wire

10VDC

0~1000 rpm

Induction Machine

LPM-06A

4*2A

110VAC

0~300 rpm

Torque Testing System

LPT012B-HS

Sensor Signal

/

/

RF Testing Equipment

LPT000-U2-HF01

1*USB2.0+1*HF

380VAC

0~300 rpm

Laboratory Testing Equipment

LPT012-0101-E3

1*1A+1*Gigabit Ethernet

240VAC

0~200 rpm

Medical Instrument (for eyes)

LPT012B-0302-U2

3*2A+1*USB2.0 Signal

380VAC

0~300 rpm

Diagnostic apparatus for Medical

LPHF-01A

1* HF

/

0~100 rpm