Offshore equipment are essential parts of the whole offshore construction systems. Offshore winches and cranes are key players among them. There is great demand in transmitting signals and power between the stationary part and rotary part on the offshore equipment. A slip ring is needed to enable such transmission.
JINPAT Electronics is a slip ring manufacturer. Since its establishment in 1996, JINPAT has been devoted to the Research and Developments of slip rings and rotary joints. With years of hard work in the industry, JINPAT Electronics has development a mature system of developing and manufacturing slip rings of various kinds and sizes. For offshore equipment, JINPAT also has many slip ring solutions.
And among JINPAT slip rings for offshore platforms, most are for offshore cranes and offshore winches. JINPAT's latest slip ring model is for offshore crane. This latest high power slip ring is coded LPA000-03300-01PE-0350-0210-16S. JINPAT, with a long history and experience in doing slip ring R&D, is able to finish the structure design and production in a relatively short time.
Large current slip ring LPA000-03300-01PE-0350-0210-16S consists of 2 modules. There are 3 300A power channels and 1 grounding wire in the large current slip ring module. This part takes up carbon brush friction pairs. The working voltage of the two parts are 690VAC and 380VAC. The other module is weak current signal module. This latter module is integrated within the custom through hole slip ring. It consists of two 10A 220VAC channels and 16 24VAC weak current signal channels.
In terms of environment adaptability, since there are already protection measurements on the application platforms, the high current slip ring with IP44 can function stably between -10℃~+45℃ under 90% humidity. To cope with cold environment, a 200W thermostat is integrated within the slip ring to heat up the component. And with a thermostat and a cooler, JINPAT large current slip ring show more flexibility in case of adaptability.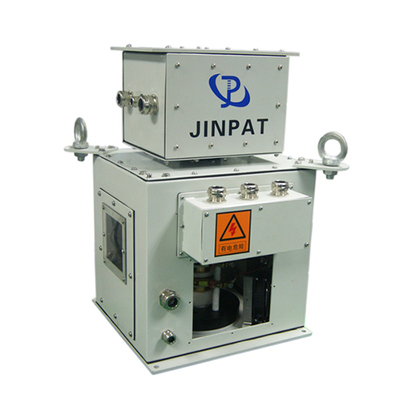 Features & Benefits
◆ Photoelectric / high-frequency and electric integration
◆ High conductivity, large safe current carrying capacity
◆ Equipped with heat abstractor and automatic heating device
◆ Mist-proof, corrosion-proof and acid-proof, vibration and shock resistant
◆ Low electrical noise, low transmission loss
◆ Optional aperture size
◆ Long service life
◆ Customization available
Equipement

Part Number

Performance

Specs

Circuits

Voltage

Working Speed

IP

Marine Winch

LPA000-0250-FO04

2*50A+4*Fiber

4000VAC

0~100 rpm

IP65

Marine Winch

LPA280-05100

4*100A+1*PE

440VAC

0~2 rpm

IP66

Self-elevating Platform

LPA350-03200-01PE

3*200A+1*PE

380VAC

0~10 rpm

IP56

Offshore Crane

LPA000-03600-01300-2005

3*600A+1*PE+20*5A

440VAC

0~1 rpm

IP55

Offshore Deck Crane

LPA000-03500-02100-01PE-1310-1005

3*500A+2*100A+13*10A+10*5A+1*PE

440VAC

0~5 rpm

IP44

Marine Crane

LPA000-04200-0240-0805

3*200A+2*40A+8*5A+1*PE

690VAC

0~1 rpm

IP55

Marine Crane

LPA000-04400-01PE-14S

4*400A+1*PE+14S

380VAC

0~5 rpm

IP55

Marine Platform

LPA000-04400-0663-0310-10S

3*400A++1*PE+6*63A+3*10A+13S

600VAC

0~1 rpm

IP56

Marine Field

LPA000-09630-05100-0563-4010

9*630A+5*100A+5*63A+40*10A

660VAC

0~10 rpm

IP56