As one enters into an amusement park, he/she can see all kind of entertainment equipment and facilities like Ferris Wheel and carousel. For these equipment, the key function is to maintain a reliable 360-degree rotation and there is also need to transmit other signals. Therefore, slip rings are essential in the entertainment equipment. JINPAT Electronics is a slip ring expert in providing suitable slip rings for entertainment equipment.
Take carousel for instance, a slip ring is installed to provide drive to the rotary platform. However, this is not enough. Aside from the rotating platform, to build up a joyful atmosphere, the light bulbs flick with the melody under the preset program. That is to say, aside from providing drive to the platform, the rotary component is expected to transmit signals as well. JINPAT Electronics provides slip rings that can do the both.
The recommenced models are LPT through bore slip rings: LPT038 / LPT050 / LPT60 / LPT120. JINPAT through hole slip ring adopts fiber brush technology which contributes to its low contact resistance and low friction. Therefore, with a smoother rotation, JINPAT slip ring is more stable during operation and enjoys a longer product life. Enabling a 360 ° continuous rotation transmission of analog or data signals, compatible with data bus protocol, JINPAT slip rings stand out from its peers.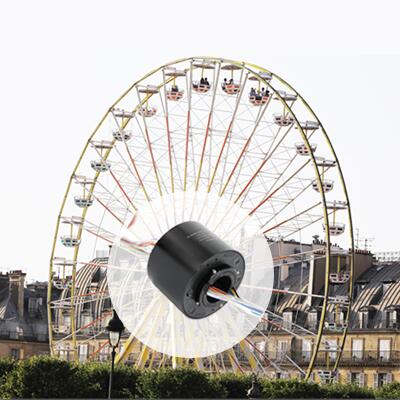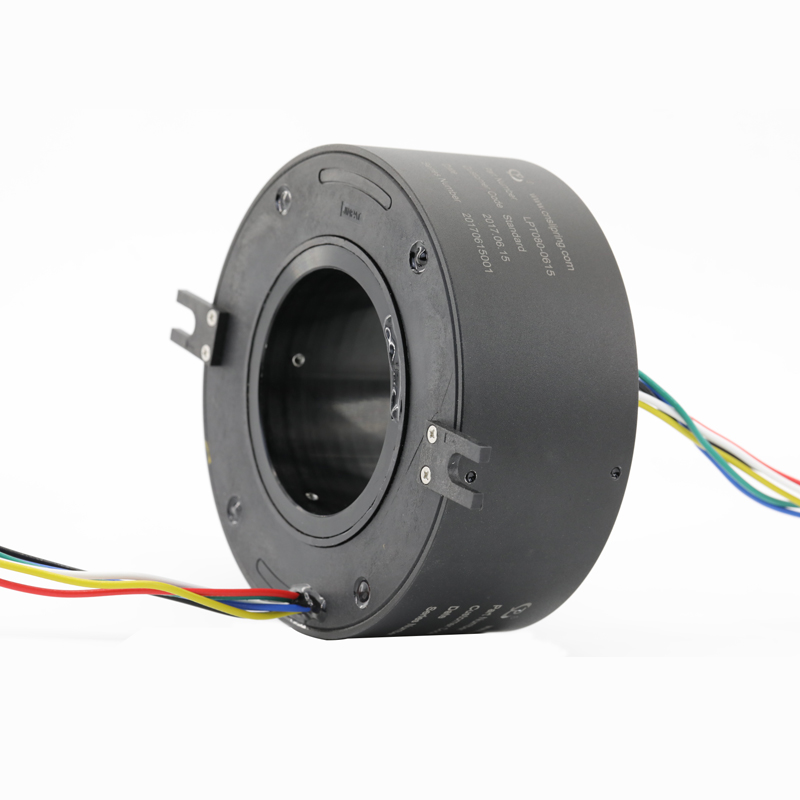 Features & Advantages

◆ Analog, digital signal and high-speed data transmission
◆ Integrated transmission of Ethernet, USB, RS, CANBUS, and FireWire
◆ Large current-carrying capacity
◆ Convenient dissipation
◆ Stable contact, low wear debris, low friction force
◆ Shock resistant, anti-interference
◆ High protection level
◆ Maintenance free
◆ Long service life
Equipment

Part Number

Performance

Specs

Circuits

Working Speed

IP

Ferris Wheel

LPT000-0520-0410-0408-01E2

5*20A+4*10A+4*8A+1 pair*100M Ethernet

0~10 rpm

IP65

Ferris Wheel

LPT000-03200-0430-0802-09S

3*200A+4*30A+9*Communication Signal+8*Common Signal

0~250 rpm

IP51

Stunt System of Culture & Technology Park

LPT025-0530-08E-04E-4S

5*30A+1pair*Gigabit Ethernet+1pair*

100M Ethernet+4*Common Signal

0~300 rpm

IP54

Stunt System of Culture & Technology Park

LPT120-0615

6*15A

0~10 rpm

IP54

Loading System of Culture & Technology Park

LPT025-0620-08S-E3

6*20A+1pair*Gigabit Ethernet+8*Common Signal

0~300 rpm

IP54

Linear Platform Car

LPA000-03300-02150-0230-E3

3*300A+2*150A+2*30A+1pair*Gigabit Ethernet

0~10 rpm

IP51

All-dimensional Dynamic Aerial Viewing System

LPA000-14500-1250-0902-02E3

14*500A+12*50A+9*2A+2pairs*Gigabit Ethernet

0~15 rpm

IP51