What are the characteristics of JINPAT SPT series hollow shaft slip rings?
As another branch of JINPAT hollow shaft slip ring, SPT series is a series of products specially customized to meet the needs of some specific customers. This series of products is not only different from LPT series in performance, but also in structure slightly different. For example: the first conductive slip ring produced by JINPAT Electronics with modular combination capability is the SPT050 series, which has a unique expandable design structure, by quickly installing different types of slip rings in its aperture, such as fiber slip ring, electric signal slip ring and high frequency slip ring, SPT series slip ring can be transformed into a new product with unique functions.
In addition to conducting modular tests on SPT series products, JINPAT Electronics also chooses it as a platform for new materials and new structure tests. Many special materials are officially transferred to this series of slip rings after full-cycle verification. Mass-produced on the LPT series. As a derivative of the LPT series of slip rings, JINPAT SPT is also divided into standard and customized types, and the customized models are naturally mainly multi-functional integrated slip rings.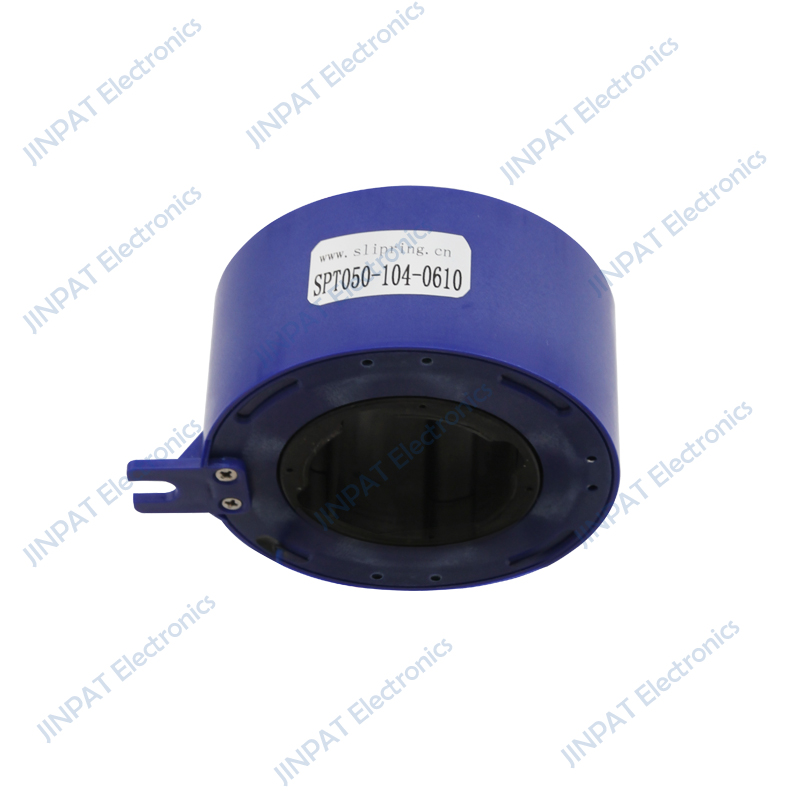 Next, let's take a brief look at the technical characteristics of these slip rings and the distinctive features of the products. Since they are all hollow shaft slip rings, the product characteristics of JINPAT's SPT series are almost the same as those of LPT. When customizing, it also supports all hollow shaft slip ring customization conditions. However, the shell of this series of products is still standard. Environmentally friendly engineering plastic shells can be selected to reduce the cost of use for customers. And JINPAT LPT series hollow shaft slip rings, whether they are standard products or customized products, are basically made of aluminum alloy or stainless steel as the shell material. After adding a unique surface treatment process, the price of these metal shell hollow shaft slip rings may be higher. Some.
Therefore, in terms of reducing product cost, JINPAT Electronics has spent considerable efforts on SPT series hollow shaft slip rings. After numerous tests, it has been proved that under the premise of the same specifications, the brush holders and shells of some slip rings have been replaced with engineering plastics, the electrical and mechanical properties of the slip ring will not be degraded. Moreover, as a veteran slip ring manufacturer, JINPAT Electronics has never stopped verifying new materials and structures on this series of slip rings. When the new structures and new materials pass the verification, the product performance and quality of the slip rings will be further improved.