JINPAT Electronics is a slip ring manufacturer based in China. Since establishment, JINPAT has been devoted to bringing slip rings with high standard and excellent quality. JINPAT has a wide range of standard slip rings that can serve different electromechanical systems. Besides, JINPAT also provide custom slip ring solutions. Today, we will look into some hybrid solutions that are popular in the market.
JINPAT Hybrid Electrical Pneumatic Hydraulic slip ring is a very practical hybrid rotary solution for automated production industry. It is a slip ring that can transmit power, signals, gas and liquid while allowing a smooth and stable rotation. This JINPAT hybrid slip ring takes up module design. The gas/liquid module is independent from the electrical unit. And the joints adopt advanced sealing processing. Therefore, there is no concern of leakage nor inference.
JINPAT Hybrid High Frequency Slip Ring can transmit general signals and radio signals at the same time. The inner layout guarantees excellent shielding and no interference between various signals.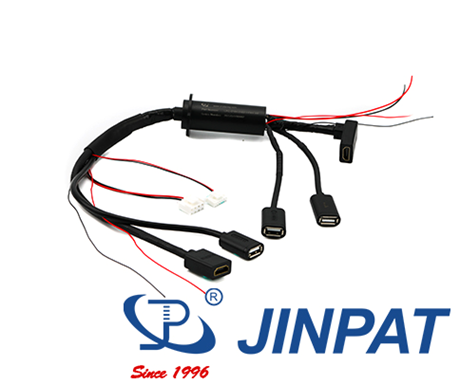 JINPAT VR slip ring LPC-0104-0402-HD01-U2
As for demand to transmit high definition video signals, JINPAT also has a mature solution. JINPAT HDMI slip rings are applied in VR devices, photographing UAVs, camera stabilizer and so on. Take JINPAT VR slip ring LPC-0104-0402-HD01-U2 for instance, there are 2 1.5A channels, 2 4A channels, 1 DC channel, 1 HDMI channel and 1 USB2.0 channel. Given this variety, it can well serve the VR device. HDMI signal transmission rate reaches 2K@90HZ. And its compact and light design won't burden the VR device. JINPAT VR slip ring is stable and endurable.
Aside from the solutions above, JINPAT has many other slip ring products and slip ring designs. You can also consult with our technology team. We will spare no effort in bringing the slip ring suit your needs the most.