Servo motor is an indispensable part in automation industry, and conductive slip ring, as an electromechanical part that can rotate infinitely to transmit electric energy, signal and gas-liquid, often matches with servo motor. JINPAT Electronics is one of the few professional conductive slip ring manufacturers in China with more than 20 years of industry experience. JINPAT Electronics is able to prepare and develop high-tech precision conductive slip rings for various automatic settings. Over the years, JINPAT Electronics has developed hundreds of conductive slip rings for servo motors.
The conductive slip rings developed by JINPAT Electronics for the servo motor are all customized models, and they are mainly hollow shaft slip rings. The reason why they have such characteristics is that the servo motor will integrate some control signals, and some equipment installed at the motor drive end also has other signal transmission requirements. So why we usually use hollow shaft slip ring as the blueprint of conductive slip ring of servo motor? This is because this kind of product has a through hole, which can be directly installed on the drive shaft of the servo motor, and the hollow shaft slip ring also has the advantages of mature technology and long service life.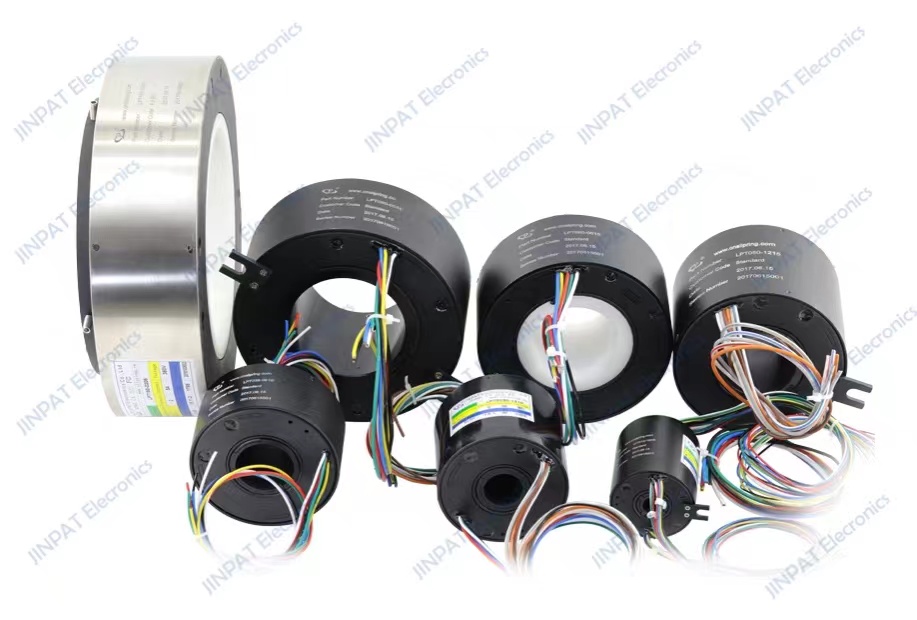 Next, let's take a look at the models of the servo motor conductive slip rings of specific products. The aperture of LPT038-0610-10s and LPT038-0710-06s is 38.1mm, which is one of the standard apertures of JINPAT Electronics hollow shaft series. The current path of these two models is 10A, but one integrates 6 channels and the other integrates 7 channels. The signals that can be transmitted by the signal module of the two types of conductive slip ring include DeviceNet, ProfiINet and servo motor signals. The signal module is transmitted by customer specified wire or twisted shielded wire.
In addition to the above signals, the conductive slip ring developed by JINPAT Electronics for servo motor can also integrate signal types such as control signal, bus signal, Ethernet signal and Profibus signal. In order to solve the problem of mutual interference between slip ring signals, engineers adopt design methods such as physical isolation inside the conductive slip ring in addition to shielding wire. In this way, the ring to ring isolation of the conductive slip ring is more than 45dB, which can completely eliminate the interference of the encoder signal and prevent the error code of the signal.
The conductive slip ring developed by JINPAT Electronics for servo motor adopts a highly modular design. In addition to flexibly integrating a variety of signals, it can also integrate gas-liquid rotary joints, so that the conductive slip ring can transmit not only electric energy and electric signals, but also coolant, air and other media. Typical products of this kind of conductive slip ring include LPT000-0530-0501-E2-01A, LPT000-1205-25S-01A, LPT000-0250-0202-08S-01A, etc.