Like Ethernet signal, the application of USB signal can be seen in many automatic and electronic devices in the era of mechatronics. As a component used to transmit signal and energy between rotating parts of electromechanical products, if the electromechanical system to which it is adapted needs to transmit USB signal, the slip ring used in this system must also be integrated with USB signal module in addition to the energy transmission module. As a professional slip ring manufacturer, JINPAT Electronics has developed many models of USB signal integrated slip ring.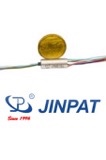 Let's first look at a rare USB signal integrated slip ring recently developed by JINPAT Electronics. Its model is LPMS-12U-0707-U2-U1. The reason why it is rare is that this type of slip ring is very small, with a diameter of only 6.5mm and a length of only 17.4mm. However, in such a narrow space, this type of slip ring integrates seven 1A current channels and one USB2.0 and usb1.0 signal channel respectively.
In the current market, USB2.0 and USB3.0 signal integrated slip rings are basically the main ones. In addition to supporting the common USB2.0 signal transmission, the signal module of this type of slip ring also integrates one USB1.0 signal slip ring.
JINPATElectronics has also developed some products with high protection level recently. This kind of USB integrated slip ring can be used for outdoor robots and sewer detection robots under poor working environment. The latest high protection grade USB integrated slip ring of JINPAT Electronics, with a representative model of LPC-18A-01-0202-U2-33, has only two 2A power rings, which is relatively simple. Its signal module integrates one USB2.0 and one Gigabit Ethernet signal circuit.
Except the USB2.0 signal integrated slip ring, JINPAT Electronics has also recently designed a number of USB3.0 signal slip rings, of which the more representative model is still the product integrated with Ethernet. Its model is LPC-30T-1402-01U2-01U3-E2. The slip ring integrates one USB2.0 and 3.0 and 100M Ethernet signal path at the same time. It is a slip ring with relatively complex internal structure. When developing this kind of slip ring, shielding measures are taken between the power ring and each signal path to prevent mutual interference between current and signal.